Retail therapy is not a new invention and has surely been associated with Harrogate for as long as its other feel-good activity of 'taking the waters'. Visitors to the town, either passing through to the Yorkshire Dales, attending Harrogate International Centre's conference and exhibition facilities or simply looking for an alternative shopping experience to the hustle and bustle of the nearby city centre of Leeds, will not be disappointed.
A short promenade past 'Betty's Tea Rooms' into the centre of Harrogate, one of the North's most fashionable of towns, leads to James Street and Hoopers, with four floors full of the best labels on offer.
On the 2nd floor we have Contemporary suiting collections from MaxMara, Gerald Darel and Marella, deconstructed labels by Sarah Pacini, Crea and Oska and casualwear ranges including Boss Orange Passport and Olsen. Our younger fashion brands and trend collections from Miss Sixty, Lipsy and Darling.
Our 1st Floor has Classic Brands such as Basler, Betty Barclay and Occasionwear from Fenn Wright Manson.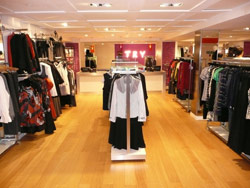 On the ground floor there is a Perfumery and Cosmetics hall which includes The Clarins Studio together with a full range of cosmetics houses (Clinique, Clarins, Lancôme, Estée Lauder, Chanel, Yves Saint Laurent, Christian Dior and Elizabeth Arden) and a selection of fragrances too numerous to mention! Browse through the fashion accessories areas to enjoy the best selection hats, handbags, belts, scarves, and jewellery in town.
In the Basement we bring you a contemporary lifestyle range of home accessories, gifts and kitchenware, a whole collection of products which add that stylish finishing touch to any home
Our Restaurant situated in the Basement is well worth a visit, serving a mouthwatering selection of contemporary style hot dishes and light bites, from pannini's and pastries to salads and pastas.
A visit to Harrogate is a must to experience the uniqueness of both the store and the town.
Located on Princes Street, just a stone's throw from the main store, our independant Menswear shop 'Hoopers for Men' enables us to offer a wide range of men's fashions, along with coordinating accessories, a fabulous selection of skincare and fragrances, and executive "boys' toys".
Hoopers Department Store
28-32 James Street
Harrogate
North Yorkshire
HG1 1RF